What is a Managed Service Provider (MSP)?
In this article, we will discuss what an MSP is, what they do, the benefits of using an MSP, and how to find the right provider for your business
.
Definition of a Managed Service Provider
A Managed Service Provider (MSP) is a third-party IT service firm that provides ongoing IT management and support services. MSPs specialize in IT infrastructure, cybersecurity, and continuity management and offer various support options.

MSPs are utilized by organizations, ranging from small to medium-sized businesses (SMBs) to government agencies and nonprofit organizations. They act as strategic partners to enhance the operational efficiency of these entities.


Related Article: What Does An IT-Managed Services Company Do?


How Does an MSP Work
MSPs come in all shapes and sizes, and there is a difference between "low maturity" and "high maturity" providers. Depending on your needs, either type of provider could be a good fit for you.

Low-maturity providers deploy basic measures to monitor and secure an environment. They might also do basic preventative maintenance, but most of their efforts are focused on responding quickly to issues when they arise. When they meet with you, the discussion will focus on technical issues and which devices to upgrade next.

High-maturity providers respond quickly as well, but they put a greater emphasis on preventing issues altogether. They rigorously align your technology to best practices for security, performance, reliability, and compliance. They function more as a strategic business partner to help you align your IT capacities to your business goals.


Benefits of Using an MSP
When you hire an MSP, you are enhancing the efficiency of your entire organization by bringing in a team of experts who specialize in maintaining a secure and reliable IT environment. User requests for support are resolved quickly, allowing your team to focus on achieving core business goals without any IT distractions.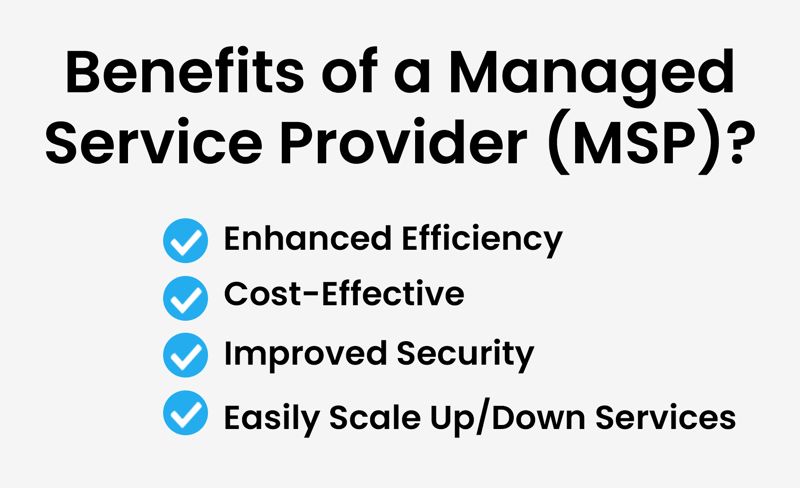 Due to their size and scale, MSPs are generally more cost-effective than hiring and managing a similar team in-house. You can have an entire turnkey IT department for a fixed monthly price.

Your risk and the potential impact of cyber threats has never been higher. MSPs have the resources and capacity to keep up with this ever-changing cybersecurity landscape.

As your business grows, your MSP can easily scale the services up or down based on your changing needs. With IT taken care of, you and your team can dedicate more time and resources to strategic, revenue-generating activities.


Related Article: 4 Reasons Managed Services Are Essential for Small Businesses


How to Find an MSP
Start with a vision of the results you hope to achieve. What would "better IT" look like within your company?

Decide if you need a "high-maturity" or a "low-maturity" MSP. If IT is "mission-critical" to your operation, you'll want a high-maturity provider who focuses on helping you achieve strategic outcomes. If IT is more of a "necessary evil" in your business and you care more about cost management, a low-maturity provider is the way to go.

Research prospective MSPs based on their past performance, testimonials, and expertise. Create a shortlist of two or three providers to evaluate further.

Speak to representatives from your shortlisted MSPs to understand their approach to managing and maintaining services. Look for evidence that they can consistently deliver the right outcomes for your business.

Last, it's essential to evaluate the health of the MSP's business. Are they stable? Do they have evidence of strong internal cybersecurity?


3 Essential Factors When Choosing an MSP


1. Are They Outcomes-Focused?


2. Do They Have a Proven Process to Deliver Those Outcomes?


3. Is Their Business Healthy, Stable, And Secure
Related Article: The Top MSPs in Nashville


Is an MSP Right For Your Business?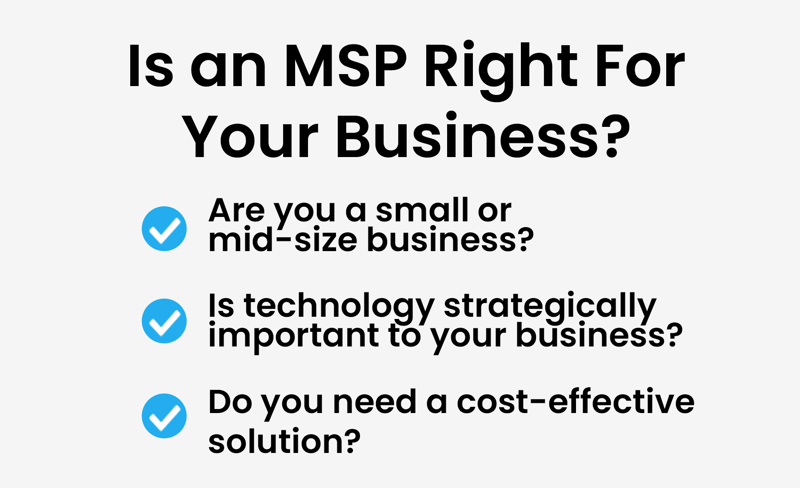 Working with an MSP may or may not be the right move for your business. A lot of it will depend on the size and complexity of your IT environment. Some organizations partner with an MSP to supplement their internal IT staff, while others leverage an MSP as a turnkey, outsourced IT department.

When it comes to selecting a specific partner, choosing the right MSP can significantly impact your success. To ensure that your IT operations are aligned with your business goals, selecting an MSP with a high level of maturity, structure, process, and discipline is important. However, it's equally important to conduct thorough research to make sure that the MSP you choose is the right fit for your specific needs and requirements.


Conclusion
Managed Service Providers offer an effective way for businesses to optimize IT management and support, allowing them to focus on what really matters. You can significantly enhance your business's operational efficiency by defining "better IT" for your team, doing your due diligence, and creating a partnership with the right MSP.
Have Questions?
Explore our
frequently asked questions
Have a question you don't see answered?
Get in touch with our team. We're here to help.
What is the agreement term for EmPower?

We offer flexible terms ranging from month-to-month, one year, or three years with a 6-month test drive option. The best pricing comes with longer commitments. Our full terms and conditions are always posted online and can be accessed here: https://www.EpiOn.com/Legal
Do you have experience in my industry?

Probably. Since 1997 EpiOn has worked with hundreds of companies across many industries. We have depth in healthcare, manufacturing, construction, professional services, and nonprofits but have worked with entrepreneurs, generational businesses, partnerships, and boards of all stripes.
Do you have local technicians in my market?

We get why you might ask. Historically, you might have often needed onsite support. However, once we implement the MBIT Framework with a client, the need for onsite support dramatically diminishes. Only 5-10% of support requests will require onsite support – and even then, it will rarely be for anything critical. When that occurs, EpiOn can quickly put boots on the ground almost anywhere in North America.
How quickly do you resolve service requests?

Service requests can be submitted via the customer portal, email, chat, or phone based on the urgency of the request. For the fastest response, call. Requests are live-answered during regular business hours by our Tennessee-based team. Most requests are resolved within minutes, and we strive to resolve every request within the same business day.
What's not included in EmPower?

EmPower does not include the following: hardware, software, or add-on solutions such as cloud hosting, Office 365, Voice-over IP, or Hardware as a Service. Project labor for new system setup or systems upgrades will be quoted via your Roadmap as needed. Other restrictions may apply. Check your Agreement for the full terms and conditions.
Will I have to upgrade or replace a bunch of equipment?

It all depends on the age and health of your current systems. EmPower requires that devices meet specific requirements, such as under five years old; being under manufacturer warranty; running an enterprise operating system; etc. If you have non-compliant systems, we will help you put them on your Roadmap to replace them as needed over time.
Better IT is 3 steps away
Step 1
Schedule A Call
Get started with a strategic, non-technical conversation where we get an understanding of your situation
Step 2
Get A Custom Roadmap
Our team will put together an action plan that highlights what Measurably Better IT looks like for your team
Step 3
Experience Better IT
We will implement a smooth, hands-free transition with defined metrics for ongoing success