EpiOn Cloud Infrastructure
A secure & reliable,
high-performance data center
Tech-forward decision makers realize that they have purchased their last server. The cost, complexity, and worry of operating an in-house server closet does not make business sense. Cloud solutions offer greater performance, security, reliability, scalability, and accessibility than their on-premises counterparts.
The traditional small and mid-sized business (SMB) model of in-house IT infrastructure is no longer viable. Few can afford the investment in redundant hardware, power, and cooling required to achieve true reliability. Even fewer can make the ongoing security investments required to protect against escalating cyber threats. In the era of remote workers and work-from-anywhere, secure, high-performance accessibility matters more than ever.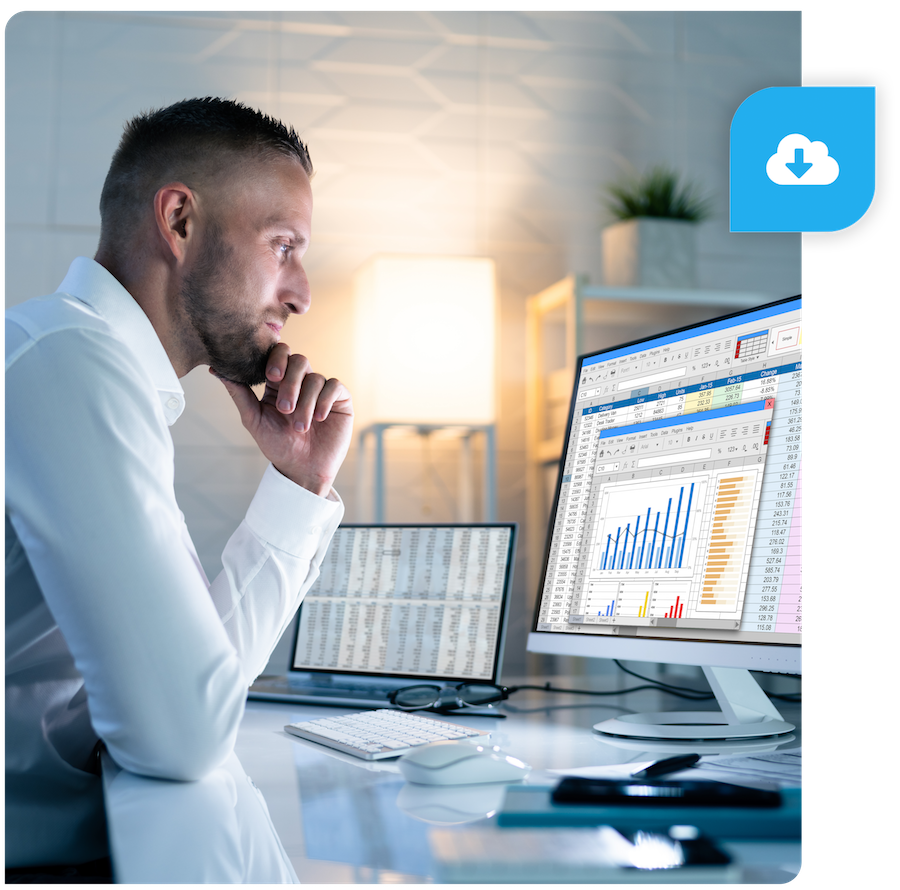 Transitioning to "the cloud" doesn't have to be intimidating
We understand the trepidation that leaders often have about "the cloud." Worries about security, the loss of control, or the migration risk. We've helped more than 100 companies just like yours make the transition.
Get an
infrastructure assessment
Receive a custom migration roadmap
Multiple options: EpiOn Cloud or Microsoft Azure

Cloud Infrastructure Services
Powering your business with

IaaS solutions
When you think of the "cloud," most SMBs are candidates for two types of services: Software-as-a-Service (SaaS) and Infrastructure-as-a-Service (IaaS). While EpiOn offers SaaS services such as Microsoft Office, Google Docs, and QuickBooks Online, on this page, we are primarily talking about IaaS. IaaS includes services such as Virtual Servers, Virtual Desktops, and Cloud Storage.
Virtual Servers
Dedicated, high-performance servers running operating systems like Microsoft Windows or Linux.
Virtual Desktops
A Microsoft Windows PC experience that runs in the data center, which users access via a remote desktop.
Cloud Storage
A range of data storage options allows you to optimize for cost, performance, and durability.
Choose your hosting platform
EpiOn offers Cloud IaaS in two platforms
EpiOn Cloud
EpiOn Cloud offers enterprise-class IaaS solutions at SMB prices, including data backup, security event monitoring, and multi-site data replication. Our predictable, flat-rate pricing model sets us apart.


Microsoft Azure
When EpiOn's cloud is not the right fit, we also offer Microsoft Azure-hosted solutions. Azure is a "utility computing" IaaS platform with data centers around the globe. EpiOn harnesses the complexity of the Azure service model and makes it easy and predictable for SMBs.
Have Questions?
Explore our
frequently asked questions
Have a question you don't see answered?
Get in touch with our team. We're here to help.
Where is my data stored?

With EpiOn Cloud, your data is stored and replicated across three separate Tier-3 data centers in middle and eastern Tennessee. With Microsoft Azure, the data is stored in the availability zone of your choosing and can be replicated to additional zones for an additional fee.
Is the cloud secure?

Security is a relative concept. There is no such thing as "absolute security." Cloud hosting environments such as EpiOn Cloud and Microsoft Azure have the scale necessary to invest in more robust security solutions that can prevent, detect, and mitigate attacks much better than traditional on-premises solutions.
Why EpiOn Cloud vs. Microsoft Azure?

Both are solid hosting platforms with their own set of strengths and weaknesses. With EpiOn Cloud, you get a predictable cost structure while retaining substantial control over your systems. Since EpiOn owns the environment, it is easy for us to create custom solutions to fit your exact needs, typically at a cost much lower than Azure. Azure is an excellent solution for large-scale Windows Virtual Desktop solutions or when you need to check certain regulatory boxes.
Are EpiOn's data centers HIPAA compliant?

Yes. Healthcare clients make up a significant portion of our client base. We routinely submit to third-party security reviews and are happy to sign off your Business Associates Agreement.
Is EpiOn Cloud SOC 2 certified?

The data centers utilized by EpiOn are SOC 2 certified, but EpiOn itself has not undergone the SOC 2 review process. We are happy to provide copies of these certifications if needed.
Ready to be the hero of your team?
Don't make the mistake of continuing with in-house servers. The risk just isn't worth it. Be the hero of your team. EpiOn can show you how easy it is to migrate to the cloud and empower your team like never before.
Schedule A Call