Introducing EmPower
Your measurably better, turnkey,
outsourced IT department
Progressive business leaders recognize that IT is mission-critical to their operations. Yet, they are often frustrated by their current results and the lack of transparency from the IT team. They need to delegate the IT management function without abdicating their responsibility.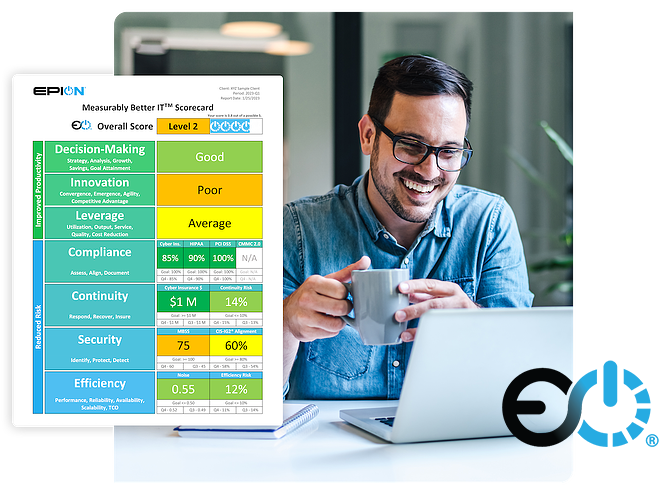 Outsourced IT doesn't have to be confusing and
unpredictable
Understand your IT roadblocks
Get a custom roadmap for success
Access clear metrics and reporting
Experience stress free IT
EmPower is our all-inclusive, fixed fee, managed IT support service built upon our Measurably Better IT (MBIT) framework
With EmPower, EpiOn is your turnkey, outsourced IT department. We deliver an entire team of IT professionals and the tools, technology, and processes for a fixed monthly fee leading to a secure, reliable, and productive IT environment. The MBIT Framework and Scorecard become a shared management blueprint between you and the IT team.
The Four-Part EmPower Program
A clear, process-driven approach that EmPowers you and your team to
harness technology like never before
Technical Assessments
Get quarterly assessments against the Framework by your dedicated Technical Alignment Manager and your Quarterly MBIT Scorecards.
Business Alignment
Your dedicated virtual Chief Information Officer (vCIO) hosts quarterly meetings to align your IT and business strategy and assess your technology roadmap.
Centralized Services
We proactively monitor and manage your systems for efficiency, security, continuity, compliance, and consistency in your environment.
Unlimited Support
Access unlimited in-person or remote support from our expert technicians any time you need without worrying about being charged for every conversation.
All-inclusive

means we've got all your bases covered, all the time
Managed Threat Detection
Endpoint Detect & Respond (EDR)
Malware Defense
Security Awareness Training (SAT)
Email SPAM & Threat Filtering
Password Management System
Web Content Filtering
Dark Web Monitoring
Data Backup Management
Managed LAN (firewall, switch(es), & Wi-Fi)
Learning Management System
Remote Desktop Access
Systems Documentation
Mobile Device Management*
Multi-Factor Authentication (MFA) – Email*
EpiOn Officewatch – Standard*
Secure Configuration (PCs and servers)
User Account Management (passwords, privileges, & access control policies)
Data Protection Practices (Access control, retention, disposal)
Audit Log Management
Custom procedures (user onboarding and offboarding, new device setup, etc.)
And much more…
*Requires Microsoft 365 Business Premium subscription for each user.
Security you can count on
The MBIT Framework incorporates much of the cybersecurity standards found in the CIS Controls. The CIS Controls are a collection of 153 safeguard policies created and maintained by the Center for Internet Security, an independent, nonprofit organization dedicated to preventing and mitigating new cyber threats.
EmPower meets the "basic cyber hygiene" requirements of IG1, which typically meets the needs of most insurance companies and non-defense regulatory agencies.
When organizations need more advanced security services, we offer our Cerberus Advanced Security services as an addendum to EmPower.
Have Questions?
Explore our
frequently asked questions
Have a question you don't see answered?
Get in touch with our team. We're here to help.
What is the agreement term for EmPower?

We offer flexible terms ranging from month-to-month, one year, or three years with a 6-month test drive option. The best pricing comes with longer commitments. Our full terms and conditions are always posted online and can be accessed here: https://www.EpiOn.com/Legal
Do you have experience in my industry?

Probably. Since 1997 EpiOn has worked with hundreds of companies across many industries. We have depth in healthcare, manufacturing, construction, professional services, and nonprofits but have worked with entrepreneurs, generational businesses, partnerships, and boards of all stripes.
Do you have local technicians in my market?

We get why you might ask. Historically, you might have often needed onsite support. However, once we implement the MBIT Framework with a client, the need for onsite support dramatically diminishes. Only 5-10% of support requests will require onsite support – and even then, it will rarely be for anything critical. When that occurs, EpiOn can quickly put boots on the ground almost anywhere in North America.
How quickly do you resolve service requests?

Service requests can be submitted via the customer portal, email, chat, or phone based on the urgency of the request. For the fastest response, call. Requests are live-answered during regular business hours by our Tennessee-based team. Most requests are resolved within minutes, and we strive to resolve every request within the same business day.
What's not included in EmPower?

EmPower does not include the following: hardware, software, or add-on solutions such as cloud hosting, Office 365, Voice-over IP, or Hardware as a Service. Project labor for new system setup or systems upgrades will be quoted via your Roadmap as needed. Other restrictions may apply. Check your Agreement for the full terms and conditions.
Will I have to upgrade or replace a bunch of equipment?

It all depends on the age and health of your current systems. EmPower requires that devices meet specific requirements, such as under five years old; being under manufacturer warranty; running an enterprise operating system; etc. If you have non-compliant systems, we will help you put them on your Roadmap to replace them as needed over time.
Don't take our
word for it
EpiOn has always provided the ABSOLUTE BEST IT services. The techs & staff there have and are always courteous and attentive to our needs when we have IT problems occur. They are prompt and knowledgeable of the needs of their customers.



- Bunny A

When we have had problems, EpiOn has responded by putting their expertise into high gear to get us quickly back in service. For the last several years, they filled the gap for the additional IT expertise our company needed but could not afford to have in-house. I highly recommend their services.

- Larry C

We've had another IT company previously who treated us like a number. EpiOn has always been ready to support our shop and get us up and going. Definitely like their service approach and professionalism.



- Carol H

Better IT is 3 steps away
Step 1
Schedule A Call
Get started with a strategic, non-technical conversation where we get an understanding of your situation
Step 2
Get A Custom Roadmap
Our team will put together an action plan that highlights what Measurably Better IT looks like for your team
Step 3
Experience Better IT
We will implement a smooth, hands-free transition with defined metrics for ongoing success