Measurably Better IT: Why It Matters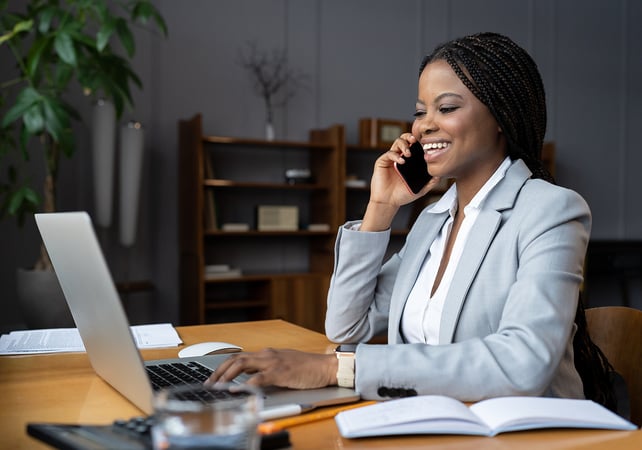 As business leaders, we all strive to be "better." We want to lead better teams, deliver better products and services, and be more effective leaders. If you are reading this, it's possible that you're feeling frustrated with your current IT situation and unsure of how to make any real improvements.
You know that you need "better IT," but you're not sure how to define what "better" would look like. Don't worry; you're not alone. This brief article offers a perspective that has the potential to alter your perception of IT permanently. Together, we'll redefine what "better IT" could look like for your organization.


What Would "Better IT" Look Like?
When you factor in all hardware, software, and support expenses, IT is probably a top 5 area on your income statement. It's a significant investment. If done right, IT should be a "lever" that accelerates growth or lowers costs. What sort of return are you getting on your IT investment? How do you measure it? Does your IT empower your team to achieve outstanding results or have you settled for mediocre outcomes? We'll come back to that.

Before proceeding, it's also important to assess your IT systems' mission-critical nature. If your IT systems go down, can your business continue to function? What if an outage persisted for two weeks because of a cyber-attack or server malfunction? Would your business survive a complete data loss due to ransomware or backup corruption? It's becoming increasingly clear to leaders that the success of their business hinges on secure and reliable IT infrastructure.

So, what would "better IT" look like? Fundamentally, better IT would be an IT management approach that helps you achieve a real return on your investment while lowering the risks associated with IT dependence.

That's why EpiOn developed the "The Measurably Better IT Framework TM." It's an IT management approach that aligns your IT resources with your business goals while ensuring that you follow best practices for IT management. The MBIT Framework sets us apart from other IT service providers and allows our clients to achieve results you can measure.


What is Measurably Better IT?
MBIT (Measurably Better IT) is a management framework developed by EpiOn that establishes standards, business processes, and key performance indicators for IT. As a leader, MBIT gives you strategic oversight of your IT investment without requiring technical expertise.

At MBIT's core is the belief that IT should produce measurable business outcomes. These outcomes could include items like reducing operating costs, boosting staff productivity, or driving innovation. The MBIT Framework makes these things possible because we turn them into a proven, repeatable process. The MBIT Framework creates a collaborative culture that aligns your team's technical capabilities with your business goals.

Moreover, the MBIT Framework is also a risk management process, offering guidance on best practices for IT security, performance, reliability, continuity, compliance, and other areas. Monitoring, managing, and measuring each of these areas is possible by tracking a few key performance indicators.

MBIT is not a theoretical concept, nor is it a one-time project. Rather, the ongoing MBIT process results in a quarterly one-page scorecard that educates and empowers you to leverage your IT investment like never before.
How does MBIT Differ from Other IT Management Approaches?
Many IT teams find it challenging to provide a written summary of their IT management process. If asked, they would likely mention that they are "proactive" in preventing issues before they occur. However, is that all it takes to increase your team's productivity? Simply avoiding and resolving problems seems like the bare minimum. Have they thought about how they can help your team get more out of your technology investment? More importantly, do they have a process to make it happen consistently?

The MBIT Framework identifies seven areas of business outcome: Efficiency, Security, Continuity, Compliance, Leverage, Innovation, and Decision Making. EpiOn has well-defined standards for best practices that can be assessed and measured within each of these objectives.

For instance, if increasing Efficiency is the business objective, we have two simple, strategic metrics for you to follow on your Scorecard: Noise and Efficiency Risk. Noise measures how often your users' efficiency is interrupted by an IT question or issue. Efficiency Risk summarizes the factors that could contribute to higher noise levels.

Behind the scenes, EpiOn tracks the things that can impact your Efficiency in areas like Performance, Reliability, and Availability. Within each of those areas, there are specific policies, settings, and tools that we monitor, manage, and measure. Yet, for you as the leader, we boil that complexity down into two simple numbers that give you a grip on the situation. There are similar metrics for each of the other six business outcome areas.

In areas like Leverage and Innovation, the MBIT Framework creates a collaborative, structured, ongoing process for continuous improvement. With our EmPower or Co-Manage IT services, we have quarterly meetings to establish goals that aim to optimize your current IT investment, as well as to explore new and upcoming technologies. That's how you really achieve "improved productivity."


---

"Better IT" is not only possible, it's within reach. You should expect more from your IT investment. MBIT empowers you as a leader to unlock that potential while also lowering the risks associated with IT dependence.

Download our white paper here for more specifics about the Measurably Better IT Framework and the other standards and metrics.